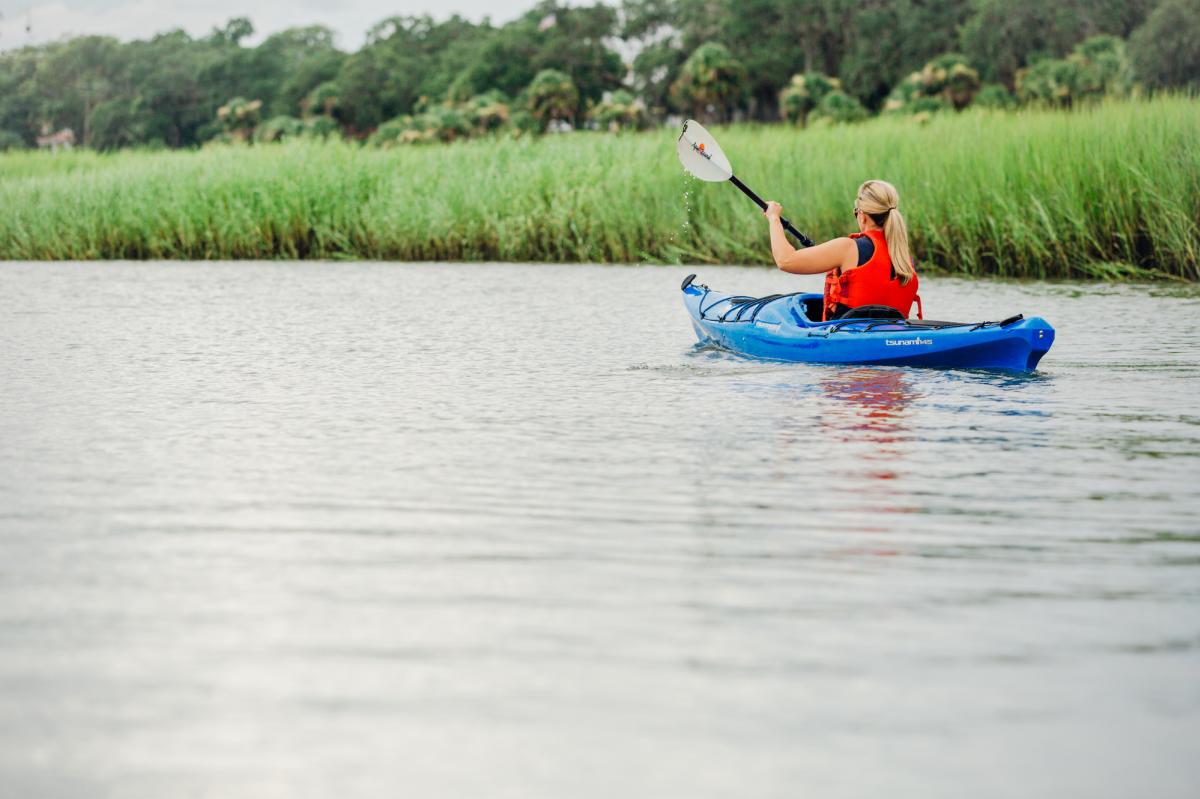 Feel like you're drowning in deadlines? Can't keep up with the kids' activities? Running at 100 mph with no signs of slowing down? When it feels like you can't catch your breath, it's time to find time for yourself again. In Beaufort, we know a thing or two about rest and relaxation. Because when the ocean breeze hits and the golden sunrise awakens your soul, it hard to find room to let stress into your day.
Sometimes, a little time on the water to recharge your batteries can do more than just give you a break from the hustle and bustle. It can give you the reset your body and mind need to get you back to being well, you. Check out six of our favorite waterfront activities, special to Beaufort, tailor made to ease your mind.
Stroll Through Our Downtown Waterfront Park – It's true what they say, a walk in the park can do you good. But when your park is oceanfront and boasts some of the best sunsets in the region, a stroll can do more than just good. Find your way downtown and through our waterfront park, where you can watch the boats sail in from a swing or catch up on conversations while watching the sun set over downtown.

Make Friends with Dolphins – Sometimes all it takes is a connection with wildlife to put things back in perspective. Join Captain Dick on a sunset cruise across the Intracoastal Waterway where you'll experience pods of dolphins swimming beside you, entertaining guests while the sun slowly fades in the distance.

Kayak Through the Sea Islands – Breaking a sweat can be the best way to find some peace of mind. Get out on the water to experience Beaufort and the surrounding sea islands by kayak. You can take the scenic route and experience Hunting Island, South Carolina's largest state park or take a deep dive into the city through a Beaufort History tour, where you'll kayak the same path as the old Beaufort River ferry.

Find Your Om with Yoga in the Park – Breathe in ocean air, breathe out the stresses of your day-to-day. Join Balance Boutique Fitness for yoga in downtown in the lush green areas of waterfront park. A great workout with an even better view? Yes, please.

Sip Your Morning Coffee Steps Away from the Coast – The Beaufort Inn, one of the most well-known and historic bed and breakfasts in Beaufort, recently opened a new 12-room hotel, the Craven Cottage, in the heart of downtown. Be one of the first guests to book a room here and enjoy complimentary coffee and breakfast just steps away from the waterfront.

Picnic by the Beach in Port Royal – Where comfort and convenience meet, pack a picnic basket and set up shop at Sands Beach in Port Royal. It's the perfect place to search for sharks' teeth or just lay back and take in the sights and sounds of the Lowcountry.