Naval Hospital Beaufort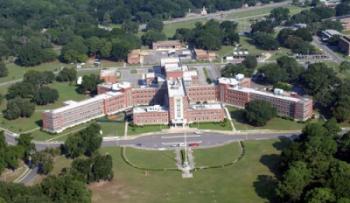 Attractions on the Naval Hospital grounds include Naval Heritage Park, featuring giant live oak trees, and the historic tabby—seashell and mortar—ruins of Fort Frederick, built in 1732.

Naval Hospital, Beaufort consists of the hospital itself, and two Branch Medical Clinics, one at Marine Corps Recruit Depot (MCRD), Parris Island and the other at Marine Corps Air Station (MCAS) Beaufort.

Naval Hospital, Beaufort is one of only a few military facilities recognized as a complete military compound, rather than a tenant of a larger command. Located within the grounds are 53 family housing single-story units, two Bachelor Enlisted Quarters, a Navy Exchange Retail store, and a gas station and mini mart with package store. This command also has its own complete Public Works facility. Recreational facilities include two softball fields, swimming pool, lighted tennis and basketball courts, outdoor fitness course, a gym, fishing pier and a children's play ground.

Naval Hospital, Beaufort provides general medical, surgical, and emergency services to all Active Duty Navy and Marine Corps personnel, as well as retired military personnel and all military dependents residing in the Beaufort area, a total population of approximately 35,000 beneficiaries.
History
Naval Hospital, Beaufort opened in 1949 on 127 acres of land. Historically, the site was formerly the John Joiner Smith Plantation, which included Camp Saxton, a Civil War Garrison, and Fort Frederick, both recognized as National Historical sites.

The First South Carolina Volunteers, the first federally-authorized black unit to fight for the Union during the Civil War, was camped at this site. On January 1, 1863, General Rufus Saxton assembled a large populace on this site for one of the earliest readings of the Emancipation Proclamation. An annual reenactment of the reading is held at the Camp Saxton site, along with a Civil War encampment, both of which are greatly enjoyed by members of our staff and the local community.

Fort Frederick was built by the English in 1735 to protect Beaufort from the Native Americans in the area, and the Spaniards to the south. Today, the remains of its walls stand within the Naval Hospital compound as a duly designated historical monument. During the Civil War, the site became a garrison named Camp Shaw. Naval Hospital, Beaufort replaced Naval Hospital, Parris Island, which was open from 1891 through  May 1949. Naval Hospital, Beaufort was commissioned on April 29, 1949, and its first patient was admitted on May 5, 1949.
For more information, please visit www.med.navy.mil/sites/nhbeaufort