The Inner Coastal Podcast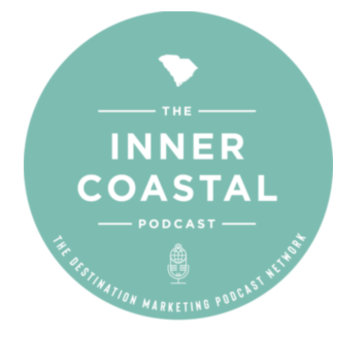 Voiced as a glimpse into the transformative mindset that one drifts into when experiencing all the enriching elements of Beaufort together, the soul of Inner Coastal is as warm and unique as our region's people and waterways, and a true reflection of our culture, way of life and cherished features.  This podcast is more than an invitation to discover Beaufort, Port Royal and the Sea Islands for yourself; it also speaks to our community's passion for preserving and protecting the rare natural beauty of the Lowcountry coast we've cherished for generations.  What the Inner Coastal podcast tells the world about the Lowcountry of South Carolina is something anyone who has walked our historic streets or strolled our pristine shores knows in their heart:  This is a coastal destination that changes you—and stays with you long after you leave.
Episode 37: The Beaufort Digital Corridor
Episode 36: Shrimp Happens!
Episode 34: Discovering Lowcountry Gifts at Tabby Shore
Episode 32: The Beaufort Water Festival
Episode 30: The Beaufort Candy Shoppe
Episode 28: The Spanish Moss Trail
Episode 26: Visiting the Verdier House
Episode 24: Creating an Artistic Legacy in Beaufort
Episode 22: History Through the Eyes of the Tabernacle Baptist Church
Episode 20: Moss and Hatchet Low Country Axe Throwing
Episode 18: Introducing the Port Royal Community Beer Garden
Episode 16: RLB Distillery
Episode 14: Fall in Love with Beaufort
Episode 12: A Visit to the Kazoobie Kazoo Factory
Episode 10: Preserving the Inner Coastal Lifestyle
Episode 8: Legendary Landmarks of Beaufort
Episode 6: A Day At The Beach
Episode 4: Exploring the Beauty of Beaufort
Episode 2: All Things Soft-Shell Crab
Episode 35: The Girl's Trip Guide to Beaufort
Episode 33: The Best of Beaufort
Episode 31: A Celebration of Juneteenth
Episode 29: Pat Conroy's Legacy on Beaufort
Episode 27: Kayaking in the Lowcountry
Episode 25: Running Through Beaufort
Episode 23: Cultivating a Community in Beaufort
Episode 21: A Walk Through Beaufort
Episode 19: Shopping Local at Beaufort Belle
Episode 17: A Photographer's Guide to Beaufort
Episode 15: Coastal Expeditions
Episode 13: The Shrimp Must Go On!
Episode 11: There's No Place Like Beaufort
Episode 9: Inns, Ice Cream, and Parris Island
Episode 7: Beaufort's Historical Heroes
Episode 5: Lights, Camera, Beaufort!
Episode 3: Discovering Historic Beaufort
Episode 1: Finding Your Inner Coastal