Parris Island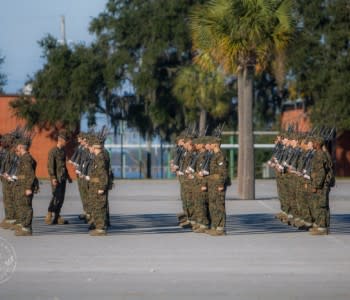 Ladies, if you love a man in uniform, prepare to be overwhelmed. And gentlemen, try not to be intimidated by all these Marines. Parris Island is something everyone needs to experience while in Beaufort. The legendary legacy of the United States Marine Corps, as well as the stimulating account of Port Royal's past, is outlined at the Parris Island Museum. It features thousands of artifacts, images, and other materials that illustrate the history of Port Royal and Parris Island from the early Native American inhabitants to the modern Marines.
The 10,000 square-foot museum is located on Marine Corps Recruit Depot. The exhibits here focus primarily on the time-honored traditions of the Marine Corps and display artifacts depicting Port Royal's important military role from the American Revolution to the Civil War. It also showcases the island's Marine Corps installation after the Spanish-American War through the present. Alongside Marine Corps facts, there are exhibits devoted to the Charlesfort Santa Elena National Historic Landmark, site of the French and Spanish colonies on Parris Island between 1562 and 1587.
For more information on the Parris Island Museum, visit http://parrisislandmuseum.com/ or call 843-228-2951.