Parris Island Museum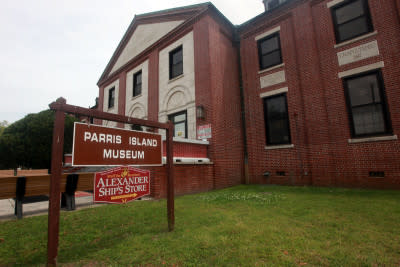 Explore the long and rich legacy of the United States Marine Corps and the exciting history of Port Royal.
The Parris Island Museum features thousands of artifacts, images, and other materials that illustrate the history of Port Royal and Parris Island, from early Native American inhabitants of Port Royal to the modern Marines.

The 10,000-square-foot museum is located on Marine Corps Recruit Depot Parris Island, South Carolina. The exhibits focus primarily on the long and honored history and traditions of the Marine Corps. On display are artifacts depicting Port Royal's important military role from the American Revolution to the Civil War, along with development of the island into a Marine Corps installation after the Spanish-American War through the present. Alongside Marine Corps history, there are exhibits devoted to the Charlesfort-Santa Elena National Historic Landmark, site of French and Spanish colonies on Parris Island between 1562 and 1587.

The Museum is open daily to the public from 10:00am-4:30pm, and 8:00am – 4:30pm on Family and Graduation Days. Holiday closures include New Years, Easter, Thanksgiving, and Christmas. Admission is free.

For more information on the Parris Island Museum, visit http://parrisislandmuseum.com/ or call 843.228.2951.