Marine Corps Air Station Beaufort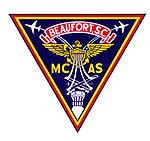 Marine Corps Air Station Beaufort, home of the Marine Corps' Atlantic Coast fixed-wing, fighter-attack aircraft assets, is located in the heart of the South Carolina Lowcountry.
Marine Corps Air Station Beaufort is among the United States military's most important and most historically colorful installations. Consisting of some 6,900 acres 70 miles southwest of Charleston, South Carolina on Highway 21, the installation is home to seven Marine Corps F/A- 18 squadrons. Two additional Navy F/A-18 squadrons joined the Fightertown community in March 2000, strengthening the installation's economic contribution to the local area. Three versions of the F/A-18 Hornet are found aboard MCAS Beaufort, the F/A-18 Hornet A/Cs and the F/A-18 D.
A Proud Tradition
The acreage occupied by the Air Station was formerly the site of several prominent Lowcountry plantations, including the Clarendon and Edgerly, Bull and Deveaux plantations. In 1779, during the Revolutionary War, British troops landed at what is now the Laurel Bay Housing area and battled American revolutionary troops at Gray's Hill. The Beaufort area was also a staging area for both Confederate and Union troops during the civil war and elaborate plantation homes still line Bay Street, overlooking the Beaufort River.
By June 15, 1943, the Civil Aeronautics Authority established Naval Air Station Beaufort as an auxiliary air station which supported advanced training of anti-submarine patrol squadrons which ensured the security of shipping along the Eastern seaboard.
Today
Currently, the Fightertown family consists of more than 700 Marines and Sailors along with 600 civilian personnel who ensure approximately 3,400 personnel of Marine Air Group 31 and its component squadrons and tenant units are readily deployable.
Fightertown's Hornet squadrons rotate overseas regularly, either for deployments to support Operation Iraqi Freedom, for six month Western Pacific deployments or aboard Navy aircraft carriers. At any given time up to half the squadrons may be found at various points around the globe, and are routinely called into action when the Commander in Chief requires airborne strikes or support for ground forces.

On the home front, the installation has weathered installation closures in the post-cold War, and with the recognition of the growing role of air power in conflicts in the developing world.

For more information about MCAS Beaufort please visit http://www.beaufort.marines.mil