What kind of fish can I catch in Beaufort, Port Royal & Sea Islands?
Due to its diverse and abundant fishing areas, Beaufort, South Carolina has long been seen as a premier fishing destination. Whether you're a novice or an experienced angler, there is something for everyone in Beaufort when it comes to fishing. In this blog post, we'll discuss the best type of fish to catch in Beaufort and the methods used to catch them.
Redfish: 
Redfish are a popular species of fish found in the Lowcountry waters of South Carolina, particularly in Beaufort. Redfish can be found inshore, near shallow flats and tidal creeks. While redfish can be found year-round, the best time to plan a redfish trip is in October or November when the weather and water begin cooling down. The best way to catch these fish is with bait, either live or artificial. Live bait such as shrimp, crabs, mullet, and fingerling menhaden are all great choices for catching redfish in our waters. For artificial lures, try using jigs, spoons, and soft plastic baits like Z-Mans Opening Night Minnows. When it comes to fishing for redfish, you will want to use a lightweight rod and reel combo with medium to light power and a fast-action tip. When casting, use a slow retrieve and give the bait plenty of time to sink before beginning the retrieve. Pay attention to structure and other covers when searching for redfish, as they will often hide in and around submerged vegetation, oyster beds, sand bars, and submerged logs. If you plan on keeping your catch, be sure to practice catch-and-release techniques.
Speckled Trout:
Speckled trout (also known as spotted sea trout) are a popular game fish as they're prized for their fighting ability and delicious taste. Although they can be found throughout the inshore waters of the South Atlantic, they are most commonly found in shallow creeks, estuaries, and coastal bays. To catch speckled trout, anglers should look for areas with structures such as oyster bars, or rocky points. These areas provide good habitats for the fish. Artificial lures such as jigs and soft plastics are ideal for catching speckled trout. Shrimp is also a popular bait for these fish. It is important to use a medium to light action rod with a 10-20 pound test line. Remember, speckled trout are a schooling fish so if you catch one, there are likely more in the area. To maximize your chances of success, be sure to cast around the same area and change up your technique every now and then.
Flounder:
Flounder are a popular and delicious game fish that can range in size from a few inches to over a foot long. Flounder can be caught on both artificial and live bait. If you're targeting flounder, the best times are during warmer months when the water is between 60 and 80 degrees Fahrenheit. During these times, the flounder will move closer to shore in search of food. To catch flounder, cast near areas of structure such as pilings, jetties, reefs, or oyster beds and use lures or live bait. Popular baits for catching flounder include minnows, mud minnows, shrimp, squid, and cut bait. To improve your chances of catching flounder, use a medium-heavy action rod and reel spooled with a 10-15lb braided line. Additionally, it is important to fish slowly and patiently as flounder are not aggressive feeders and will only take the bait when they are hungry. Once you have a flounder on your line, you can use a net to land the fish and enjoy your catch.
Cobia:
Commonly known as ling, cobia are strong fish with a reputation for putting up an impressive fight on a rod and reel. These big predators can be found in shallow water around wrecks, ledges, or any type of structure where baitfish are plentiful. Cobia season typically runs from April through
October in the Beaufort area. To attract cobia, you can use life or cut bait such as mullet, menhaden, mackerel, or squid. You may also try trolling deep-diving lures. You will want to use heavier tackle such as a medium-heavy rod and a large spinning reel with at least a 30 lb test line. Be prepared for a long fight and expect the fish to make several runs before you can bring it to the surface.
Sheepshead:
Sheepshead are saltwater fish and can be found near docks, piers, like the Broad River Fishing Pier, and rocks. They feed on mollusks and crustaceans, so they can often be found in shallow water around structures. When it comes to catching Sheepshead, the best bait to use are live fiddler crabs or small pieces of shrimp. A two-hook bottom rig or a weighted Carolina rig will help keep the bait in place and make it easier for the fish to find. A medium spinning reel loaded with 10-15 lb. test line is ideal for fishing for Sheepshead. Once you feel a bite, wait for the fish to turn and start swimming away before you try to set the hook. This will prevent the fish from feeling too much pressure and breaking the line. When you have a good hold on the fish, gradually bring it in using a short, steady pull until it is close enough to net.
***Please note that the availability of fish species and their peak seasons may vary from year to year depending on weather conditions, fishing regulations, and other factors. Check with local fishing guides or the South Carolina Department of Natural Resources for the most up-to-date information.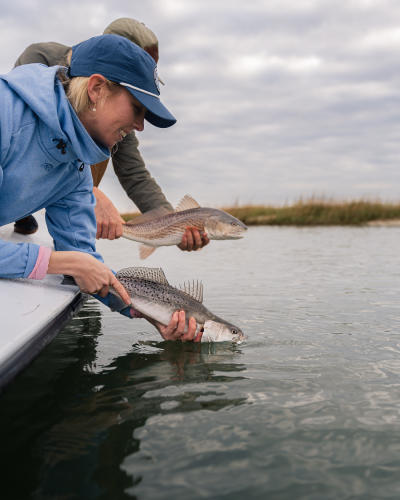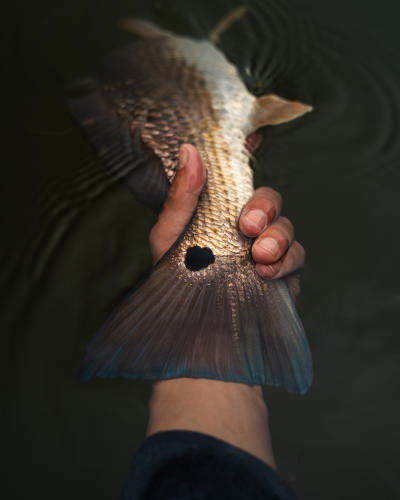 ***Bottom - trout/ Top - Red Fish***