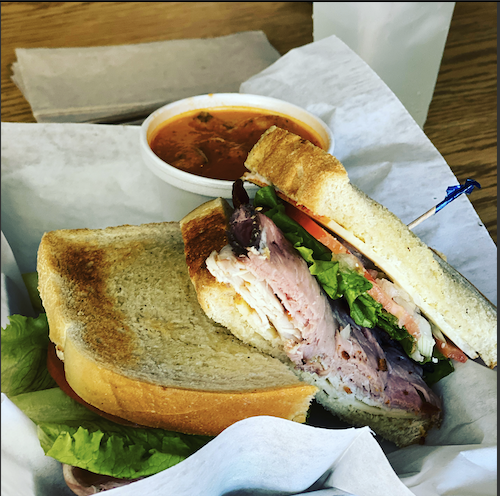 1: MAMEEM AND MAUDIE 81 Sea Island Parkway
Upon the first arrival, you wouldn't imagine what a lovely little shop sits within its unassuming exterior, but upon entry, it instantly becomes clear that this cafe should be a regular visit for anybody nearby looking for a delicious brunch, and a great cup of coffee too. With plenty of seating and lots of natural light, you are instantly comfortable sitting down with friends to enjoy a sandwich and some company inside of Mameem and Maudie. If you're looking for a bit of respite from the hustle and bustle inside of the shop, they also have a surprisingly spacious outdoor seating area, where you can enjoy great food, friends, and the smell of the ocean all at the same time.
With a menu consisting of sandwiches, soups, salads, and coffee, this cafe doubles as an icery, with many delicious cold treats to satisfy any sweet tooths in the area. With sandwiches ranging from complex and experimental, like turkey and bacon with pesto ranch, to classics like the BLT or grilled cheese, there really is something for everyone at Mameem and Maudie. The menu also features soups, either tomato basil or the soup of the day, that can be paired with your sandwich as a combo instead of chips or a cookie. Be sure to try their coffee as well, which comes hot, iced, or as a frappe; and in the flavors of caramel, mocha, or horchata. If you've still got room after all that delicious food and coffee, the icery menu ranges from classic scooped ice cream, milkshakes, and sorbets, to shaved ice and popsicles, and makes for a perfect on the go treat once you've finished your meal.
During my visit, I had The Navigator, a turkey, bacon, and muenster sandwich with pesto ranch, and I would strongly recommend it to any pesto lovers out there. Besides my sandwich, I had an iced coffee, which was perfectly sweetened with delicious caramel syrup. Something interesting to note is that the ice cubes in the coffee are actually frozen coffee, and not water, so it doesn't get watered down while you eat. Of the soups, I've had two: the tomato basil, and the chili, which happened to be the soup of the day during one of my visits, and they were both absolutely delicious,  piping hot, and perfect compliments to the sandwiches I've enjoyed.
All in all, Mameem and Maudie is the perfect spot for brunch, lunch, or even just a cup of coffee. Located just two minutes away from downtown Beaufort, nobody should have to go out of their way to find this amazing cafe and enjoy some delicious food. It is, after all, where the locals eat.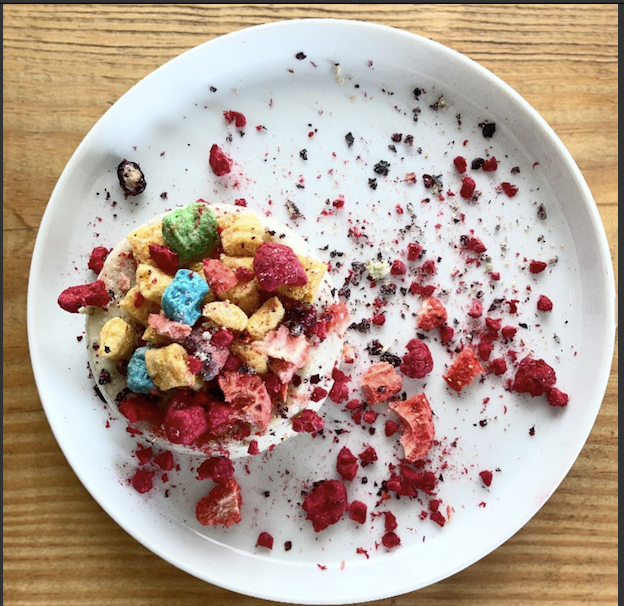 2: BLACKSHEEP ON BOUNDARY 1216 Boundary Street
Blacksheep is a wonderfully personal place to eat a delicious meal, and have a very unique dining experience. Only seating fourteen people (for now), every outing seems to become a dinner party among friends by the end of the night. In a self-described "intentionally small space," and with the kitchen open and in view of the dining area, every occupant in the building will have a singular experience. The interior is eclectic and moody, and creates an ambiance that befits the food that Chef Matthew crafts just a few feet away from where you're seated. Tables must be reserved, so be sure to plan ahead and get a seat, because this is a dinner you won't want to miss.
The menu here is a bit different than your average restaurant: it changes every two weeks. However, there will almost certainly be something you'll love, and the dishes seem to take inspiration from cuisine all around the world. If you're seeking some reprieve from the norm, Blacksheep is the place for you. With more consistency, the menu also features a collection of beer, wine, and champagne. The wine and beer list changes based on menu pairings and season, so look forward to some variety. Fortunately, Blacksheep always offers delicious hot coffee, made perfectly via the french press. For the sweet tooths out there, they also offer a choice of two desserts (or both if you swing that way), usually a bit more complex than your average mega-deluxe quadruple chocolate brownie and double-decker cheesecake you'll find elsewhere.
During my visit, I was lucky enough to sample the entirety of the current menu. I had the most delicious roasted onion soup, with onion jam and crispy potato skins, and it was absolutely to die for. Another massive highlight was the house-made kielbasa, which I ate as a crostini with house-made sauerkraut. In fact, specifying that something at Blacksheep was house-made is almost redundant, as anything you come across in that restaurant was probably made by Matthew himself. Other notable dishes include octopus with smoked ham hock broth and a wonderful Asian cold noodle dish with a soft boiled egg on top. Of course, I had a hot mug of coffee with my meal, courtesy of a french press, as stated earlier. We finished up our meal with a Cap'n Crunch panna cotta topped with tangy dried berries, and I can appreciate that it tasted of more than just several different forms of sugar.
At the end of the day, I can strongly recommend Blacksheep to anyone who loves delicious food and great company. Nestled right on the edge of downtown Beaufort, everybody in town should have the opportunity to experience this one-of-a-kind dinner spot. It is, after all, where the locals eat.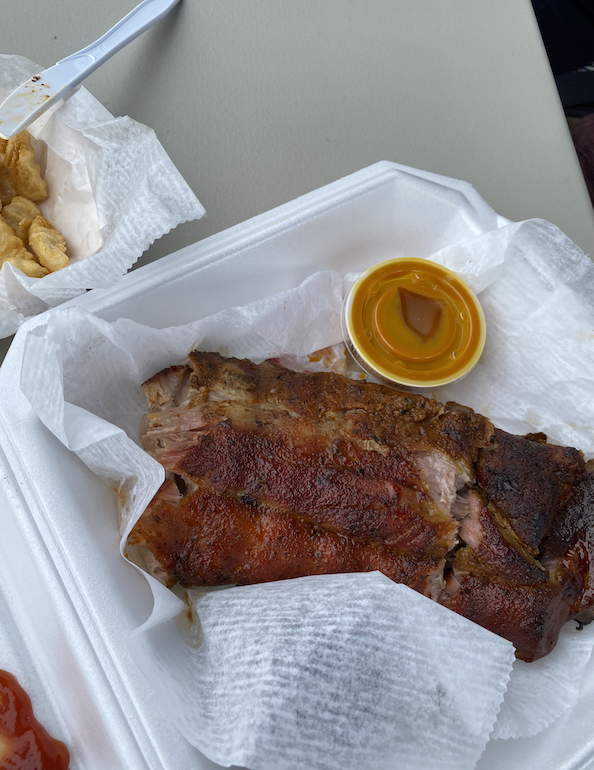 3: ISLAND FAST FOOD GRILL 520 Sea Island Parkway
Island Fast Food Grill is an unassuming restaurant with lots to say about the barbeque it serves. Be sure to check the weather if you plan to eat there, as the only seating is situated on the outdoor patio next to the building. With plenty of available seating, and the smoker used to create the delicious food just feet away, you'll be able to enjoy your meal while basking in the aromas of the slow-cooked, smoked meats that they serve. Here, you place your order inside the small foyer of the building and then sit outside to wait. Once it's ready, the cooks will bring it out of the side door, directly to your table. 
The menu is relatively straightforward, as far as barbeque goes. Focused mainly on meats, you've got St. Louis and baby back ribs, smoked half-chickens, pulled pork sandwiches, burgers, and chicken wings. They've also got some seafood in the form of various fish and shrimp baskets, and po boy sandwiches. The sides are classic barbeque pairings, like coleslaw, green beans, french fries, baked beans, and hushpuppies, and come in either small or family sizes. If seafood and barbeque aren't your forte, they've also got a fried chicken sandwich or jumbo hot dog. As for beverages, they're a dollar each and located in a handy fridge in the front where you order.
During my visit, I ordered a half-rack of baby back ribs, which were served with both a traditional barbecue sauce and a mustard barbeque sauce. The ribs were absolutely delicious, smoky, and fall-off-the-bone tender. I had the opportunity to try the pint of pulled pork, which came with enough pork to make four sandwiches at home. I had a bite of the half chicken as well, which was absolutely delectable. In terms of sides, the hushpuppies are light and crispy, the baked beans are thick, hearty, and sweet, and you can never go wrong with french fries. If you like barbeque, you will certainly find something on this menu to enjoy.
Island Fast Food Grill is a delicious, off-the-wall spot that you can't skip if you're in town. Easy to miss, but delicious, affordable, and filling, it is a must-visit for anyone who loves barbeque and a nice breeze. It is, after all, where the locals eat.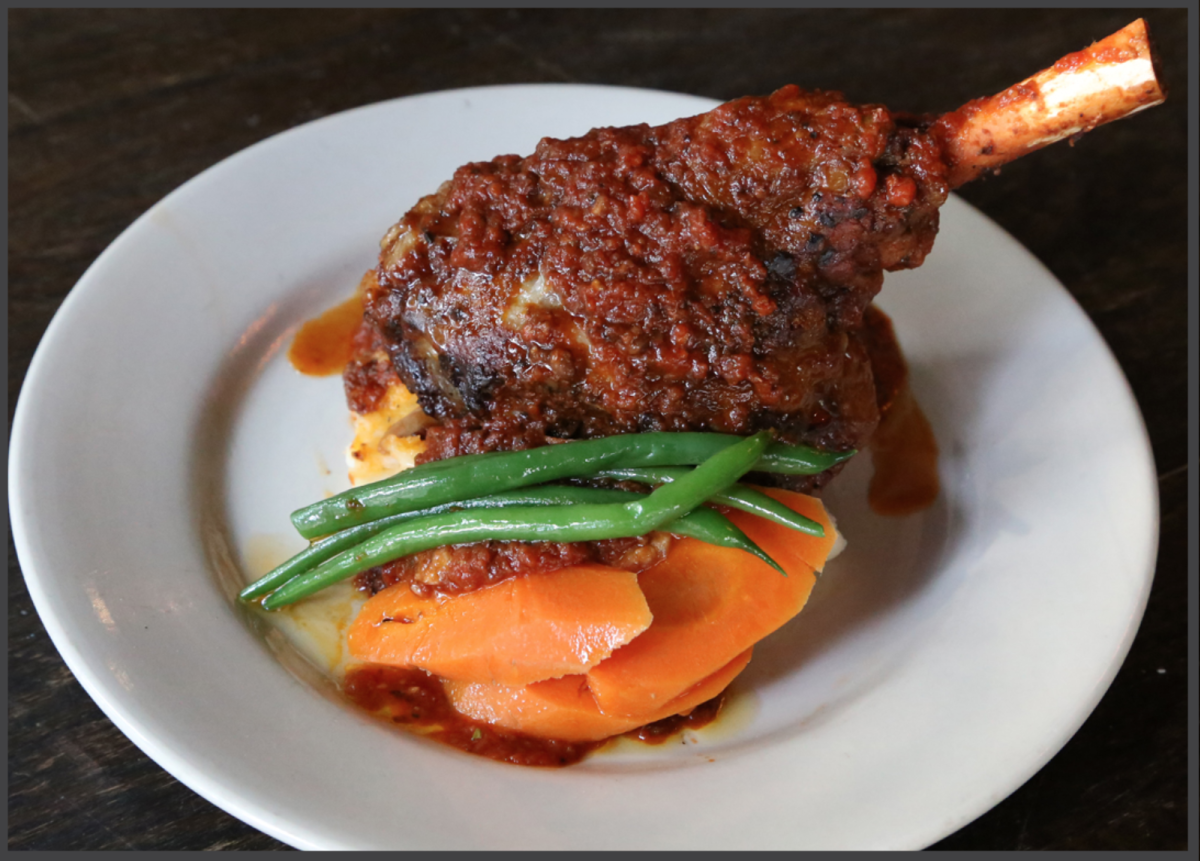 4: Old Bull Tavern 205 West Street
Recently featured on Beyond The Check: Worker Owner Edition, The Old Bull Tavern is Beaufort's Friendly neighborhood Gastropub with an ever-changing market-based menu of European and American comfort foods, innovative cocktails, and select craft beers and wines in bottle and on tap.
From hummus to lamb chops, there's much to be said regarding the distinct tastes of these European-inspired dishes. With lots of herbs to go around, everything coming out of this kitchen is bound to be strongly flavored and aromatic. They have multiple different pizzas, steaks, lamb chops, and some pasta dishes as well. There are plenty of delicious appetizers to go around too, including rosemary cashews, black olive tapenade with goat cheese, pork belly steamed buns, and wasabi-deviled eggs. There is a lengthy beer and wine list as well, so look forward to some interesting pairings.
During our visit, we had to start our meal with the "Green Eggs and Ham". Something we have never heard of: this is wasabi-deviled eggs with prosciutto and they are worth the try. With the wasabi blended into the egg yolk, it gives you that little kick of spice while the prosciutto adds a little bit of sweet and salty. For our entree, we had the Lamb Shank, braised in red wine and tomato sauce. The meat falls off the bone and with whipped potatoes and sauteed carrots; it melts in your mouth. Everything was well seasoned and heavily flavored, so if you love European food (or food in general for that matter), Old Bull Tavern is definitely worth a stop.
If you're looking for something a bit out of the norm for food in the area, and you love herbs, feta, and "Green Eggs and Ham", Old Bull Tavern is the restaurant for your next outing. Slammed right into the center of downtown Beaufort, chances are you'll be within walking distance of this spot and one point or another, so go give it a try. It is, after all, where the locals eat.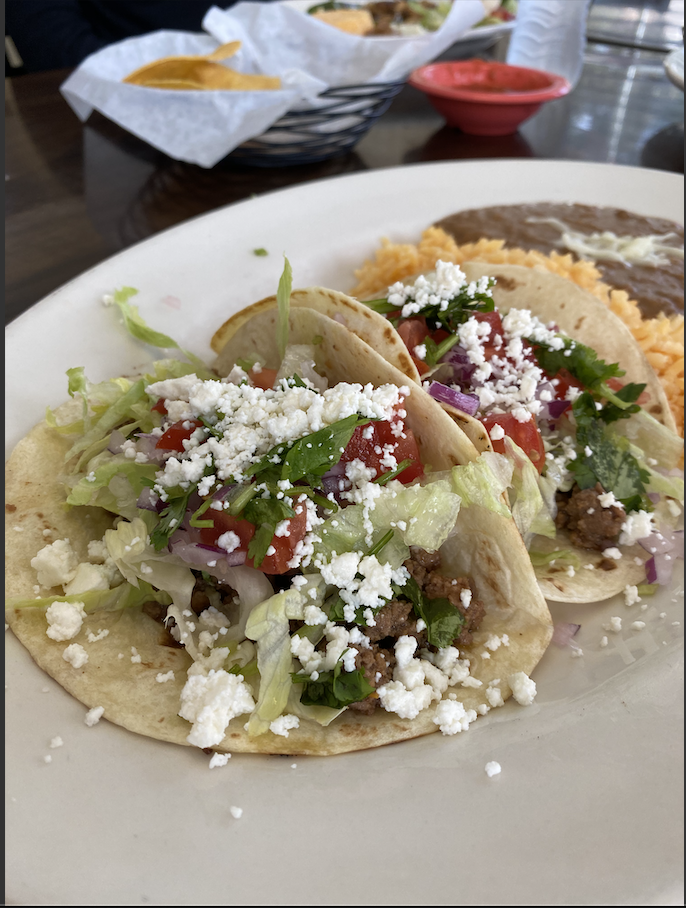 5: EL NUEVO VALLARTA 1742 Ribaut Road
El Nuevo Vallarta is a tiny Mexican restaurant with some big flavor. This place is pretty much the definition of a hole in the wall, with such an unassuming exterior you'd be forgiven if you didn't even realize that it was a restaurant. In a small, bright orange building, sits El Nuevo Vallarta, with only enough seating in the dining area for 12 people. Luckily, there is an outdoor seating area on a side patio, although the restaurant seems relatively unknown so you'll most likely have plenty of room to eat inside. 
What El Nuevo Vallarta lacks in atmosphere, it more than makes up for delicious food. The menu is stacked with quintessential Mexican classics, like fajitas, tacos, burritos,  soups, and enchiladas. Of course, the table is set with chips and salsa after ordering, and you can get some guacamole as well. The order format is the standard for an authentic Mexican restaurant, where you choose the type of entree you want, and the choice of meat to fill it. The meats include chicken, carne asada, lengua, al pastor, buche, chorizo, tripas, barbacoa, and carnitas. With plenty of lunch specials and breakfast too, there is plenty here for everyone, no matter the time of day. 
During my visit, I had a pick two lunch special with an al pastor burrito and a cheese enchilada, and they were served alongside the standard rice and beans. The enchilada was delicious, as expected, and served with the choice of red or green sauce. Al pastor is one of my very favorite foods, and it brings me much happiness to say that El Nuevo Vallarta has some absolutely delicious pastor. If you don't know pastor, it's a heavily spiced marinated pork dish traditionally cooked shawarma style and served as a burrito or taco, and I highly recommend trying it if you haven't. The food was well seasoned, flavorful, and authentic tasting, which is definitely a pleasant addition to the culinary movement down here in the south. 
El Nuevo Vallarta is the perfect spot for anybody visiting from out west who is craving some delicious Mexican food. If you don't regularly enjoy Mexican cuisine, I implore you to give some of this more authentic cuisine a try!