They say Breakfast is the most important meal of the day, and we couldn't agree more! There's no short supply of great breakfast spots in Beaufort, Port Royal & the Sea Islands! They're always serving up fantastic fresh local ingredients. 
Beaufort Bread Company- 102 Sea Island Parkway, Beaufort​
A small family operated bakery serving Artisans Bread and Pastries along with house-made pasta and sausage.
Visit: Www.Beaufortbread.Com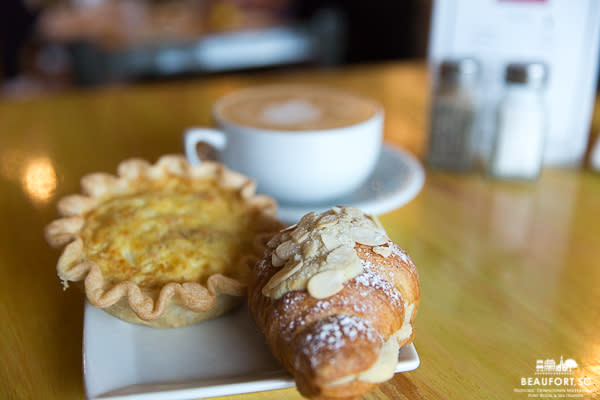 Almond Croissant, Sundried tomato, bacon & cheese Quiche with a Pumpkin Latte
Blackstone's Café- 205 Scott Street, Downtown Beaufort​
A local institution in the heart of the historic district. Serving full breakfast and lunch daily.
Visit: Www.Blackstonescafe.Com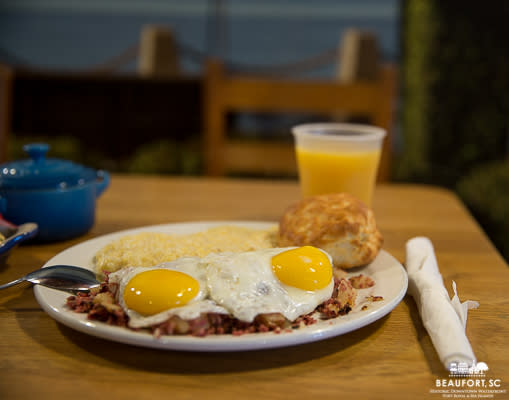 Homemade Corned Beef Hash with Eggs, Grits & a Biscuit
Boundary Street Café- 1209 Boundary Street, Uptown Beaufort
A staple in Uptown Beaufort, serving up breakfast and lunch!
Visit: Www.Facebook.Com/Boundarystreetcafebeaufortsc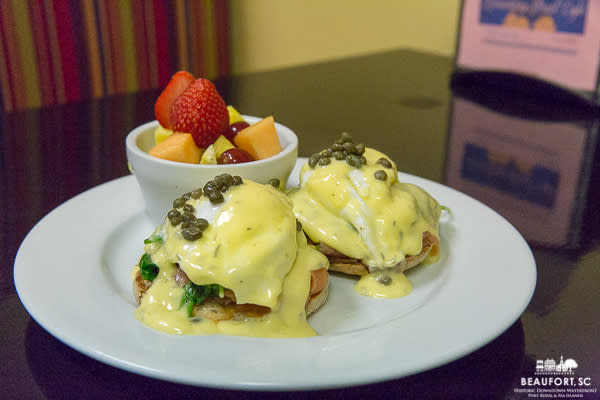 Eggs Benedict with Smoked Salmon, Spinach & Capers with fruit
Carolina Cider Company- 507 Sea Island Parkway, Beaufort
Located in St. Helena, they serve artfully crafted coffee and freshly baked pastries. In an easy going, light-filled environment.
Visit: Www.Carolinaciderco.Com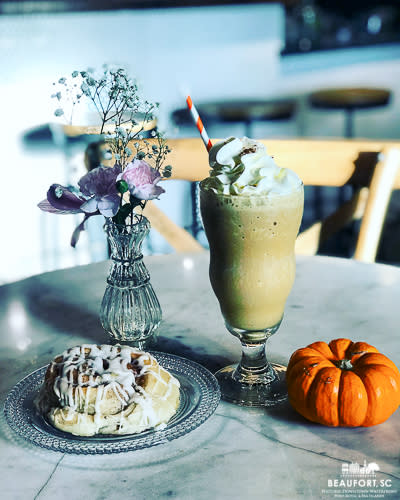 Apple Cinnamon Roll with a Pumpkin Frappe
City Java- 301 Carteret Street, Downtown Beaufort
City Java News, a place to sit, talk, sip, read, work or just be...while enjoying freshly made coffees and pastries.
Visit: Www.Citylofthotel.Com/City-Java-News/​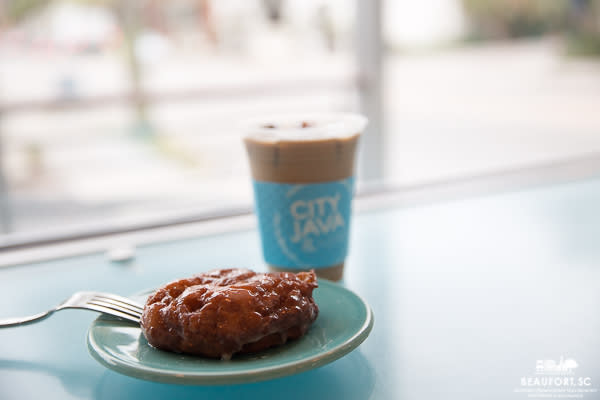 Apple Fritter with a Maple Cinnamon Iced Coffee & Coffee Ice Cubes
Common Ground- 102 W. St. Ext, Downtown Beaufort
Located on the waterfront park, they offer variety of coffees, teas, pastries, quiches and much more!
Visit: Www.Commongroundbeaufort.Com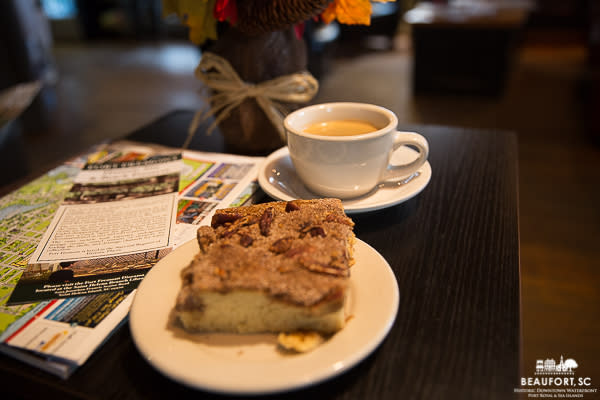 Pecan Coffee Cake with Espresso
The Cracked Egg- 1638 Paris Avenue, Port Royal
Located in the Old Village of Port Royal, they're serving up old school breakfast & lunch 7 days a week!
Visit: Www.Facebook.Com/Crackedeggportroyal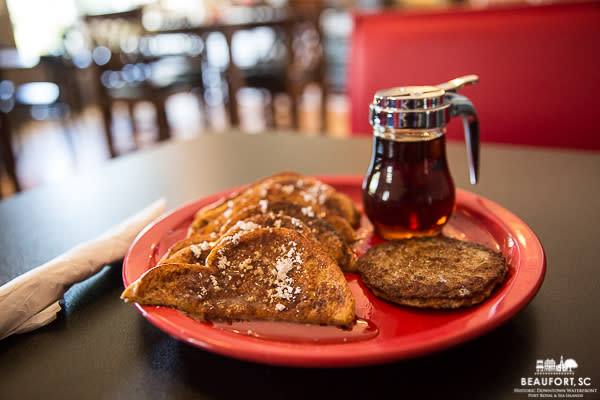 Honey Cinnamon French Toast with Maple Syrup & Sausage
Lazy Susan's Creperie- 31A Market Street, Habersham
Located in the beautiful Habersham Marketplace, they're serving up European Quality Coffee and Crepes with a taste of Southern Charm.
Visit: Www.Facebook.Com/Lazysusanscafe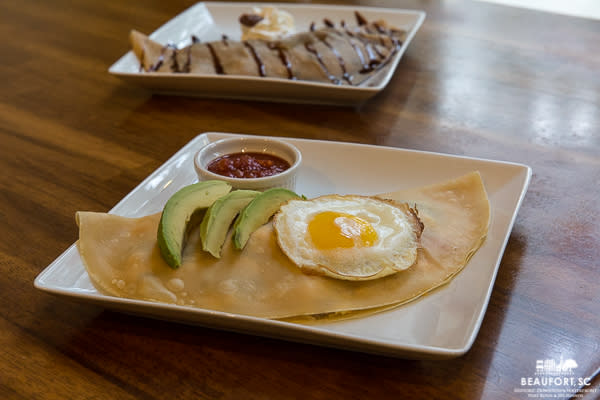 Huevos Rancheros Crepe (Sausage, egg, cheese, peppers & jalapenos served with avocado & salsa) & Carolina Summer Crepe (Blueberry, Chocolate & Pecans served with whipped cream)
Lowcountry Produce Market- 302 Carteret Street, Downtown Beaufort
Serving up Lowcountry Cuisine, located in the heart of Downtown Beaufort.
Visit: Www.Lowcountryproduce.Com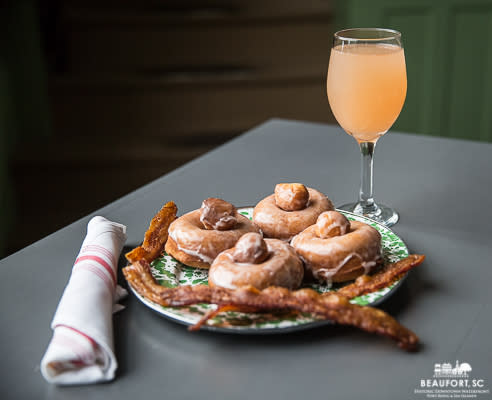 Made to order Glazed Yeast Donuts with Bacon & a Peach Bellini
Magnolia Bakery Café- 703 Congress Street, Downtown Beaufort
Your refreshing neighborhood spot, serving mouth watering pastries, with a spectacular waterway view!
Visit: Www.Magnoliacafebeaufort.Com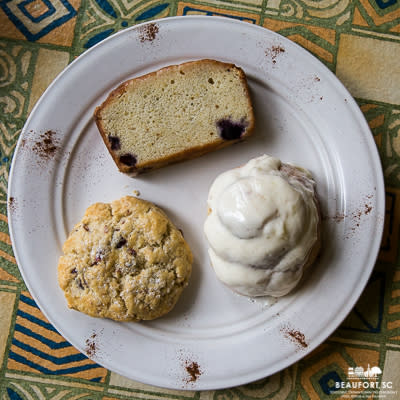 Cinnamon Roll with Cream Cheese Frosting, Blueberry/Lemon cake & a Cranberry Scone
Palm & Moon Bagel- 221 Scott Street, Downtown Beaufort
Locally owned operated restaurant serving up a selection of fresh bagels sandwiches and variety of cream cheese.
Visit: Http://Bit.Ly/Palmandmoon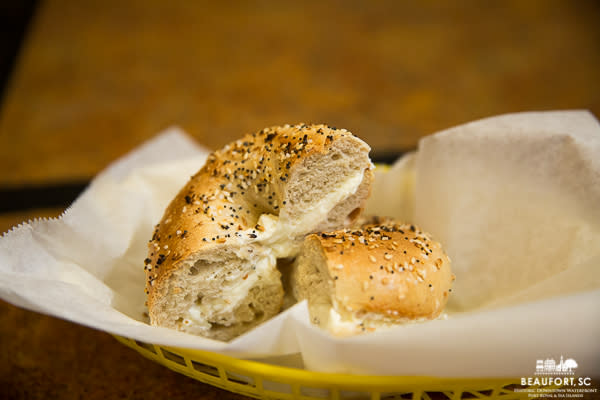 Everything Bagel with plain cream cheese
Red Rooster- 2045 Boundary Street
They're serving up an eclectic menu of a home-style Southern Cuisine.
Visit: Www.Facebook.Com/Red.Roostercafe.3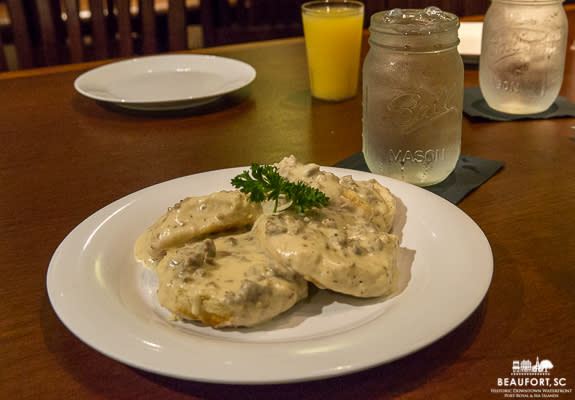 Grandma's Biscuits & Gravy